The
easiest way

to create immersive WebAR

Our drag and drop editor enables you to effortlessly combine image, world, and face tracked scenes to produce immersive AR experiences.

Get started
Image tracking
Image tracking attaches digital content to a flat or curved image, perfect for print material and product packaging.
World tracking
World tracking allows digital content to be placed in real world space, without the need for any specified targets.
Face tracking
Face tracking can detect and track digital content to the user's face. Content can be relative to 12 attachment points.
Create
memorable

AR experiences

Build multi-scene campaigns with custom 2D and 3D content. Add user interactions using actions to finalise the user flow and publish your experience to WebAR in just a few clicks, to engage your audience like never before.
Extend the power of Designer with
applets
Applets are elaborate functionalities made easy. By making use of applets, you are able to create more complex experiences quickly without ever leaving Designer or writing a line of code. Applets include features like realistic avatar creation and particle systems.
Drive user engagement

with custom screen interactions

Enhance your WebAR experiences by creating an on-screen user interface. With our user-friendly Screen UI feature, your audience can easily navigate through your content using known behaviours. This results in a more engaging and user-friendly experience that keeps your content at the forefront.
Boost sales with digital products
Try Before You Buy
Amplify brand engagement by allowing your audience to seamlessly interact with your digital products or branded assets. Combine face tracked scenes to simulate an in-store experience and enable your consumers to try your products virtually. Encourage social sharing by enabling users to capture selfies, increasing brand awareness and driving engagement.
Bring your
3D products

to life

Transform your websites with Designer's AR Web Embed feature. Website visitors can interact with a fully rendered 3D experience and even launch it into AR, directly from within your site. This added level of interactivity enhances the user experience and helps customers make more informed purchasing decisions by visualizing products in 3D.

Find out more
AR Web Embed
Create and embed AR into your existing websites. Interact with 3D models inline and launch into AR mode for further immersion.
3D Support
Import GLB or glTF 3D models. Models can include animations and user actions can be added to add further interactivity.
Animated Models
Zapworks Designer supports 3D models containing animations. Set them up as an idle state, play as an action or set to loop.
Scenes and Transitions
Move between different scenes allowing your audience to seamlessly navigate the experience from start to finish.
Easy no code Screen UI
Screen UI allows you to fix components to a screen in 2D space. Offer better UX by separating the UI and the AR content.
Video Streaming
Simple to import various supported video formats, adaptively streamed into your experience.
Alpha channel video
Alpha channel is an additional channel that defines areas of transparency. Add videos with alpha channel to any Designer project.
WebAR
WebAR allows users to view experiences using their browser. It is a great way to ensure end users can access content with no friction.
Self hosting
Available on the enterprise plan, Self-hosting allows customisation while also being a secure way to host and serve WebAR experiences.
AR for
everything
Use the same development process in Designer to create AR experiences for a number of different use cases. Create a virtual try on for product visualisation, an immersive employee onboarding program or even prototype for larger experiences. Powerful creation tool, simple interface.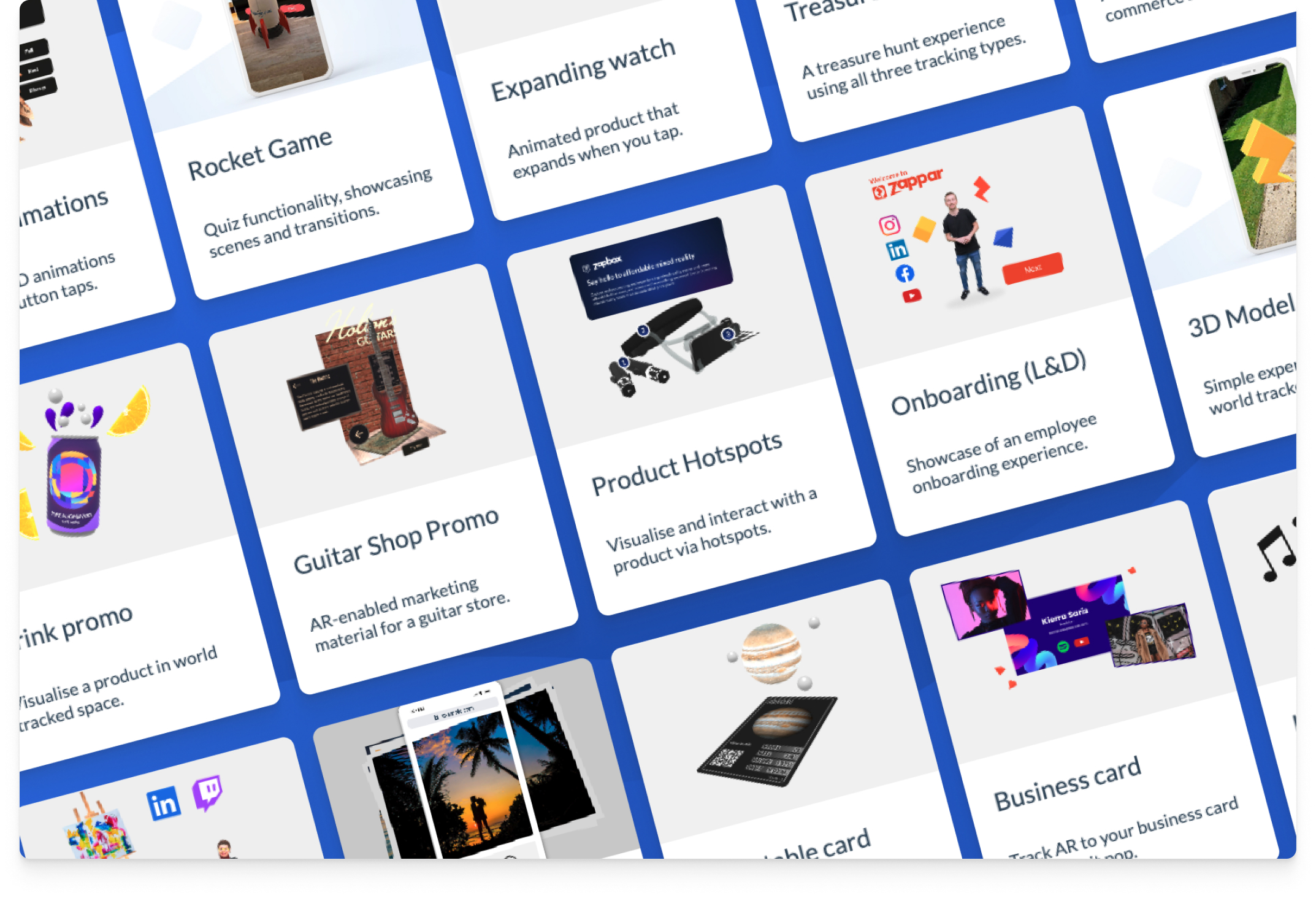 Choose from our range of
templates
Get started today! Designer comes with a vast array of example projects to help you create your first project. Use a template for inspiration or as a framework for the experience you want to create.
Try it today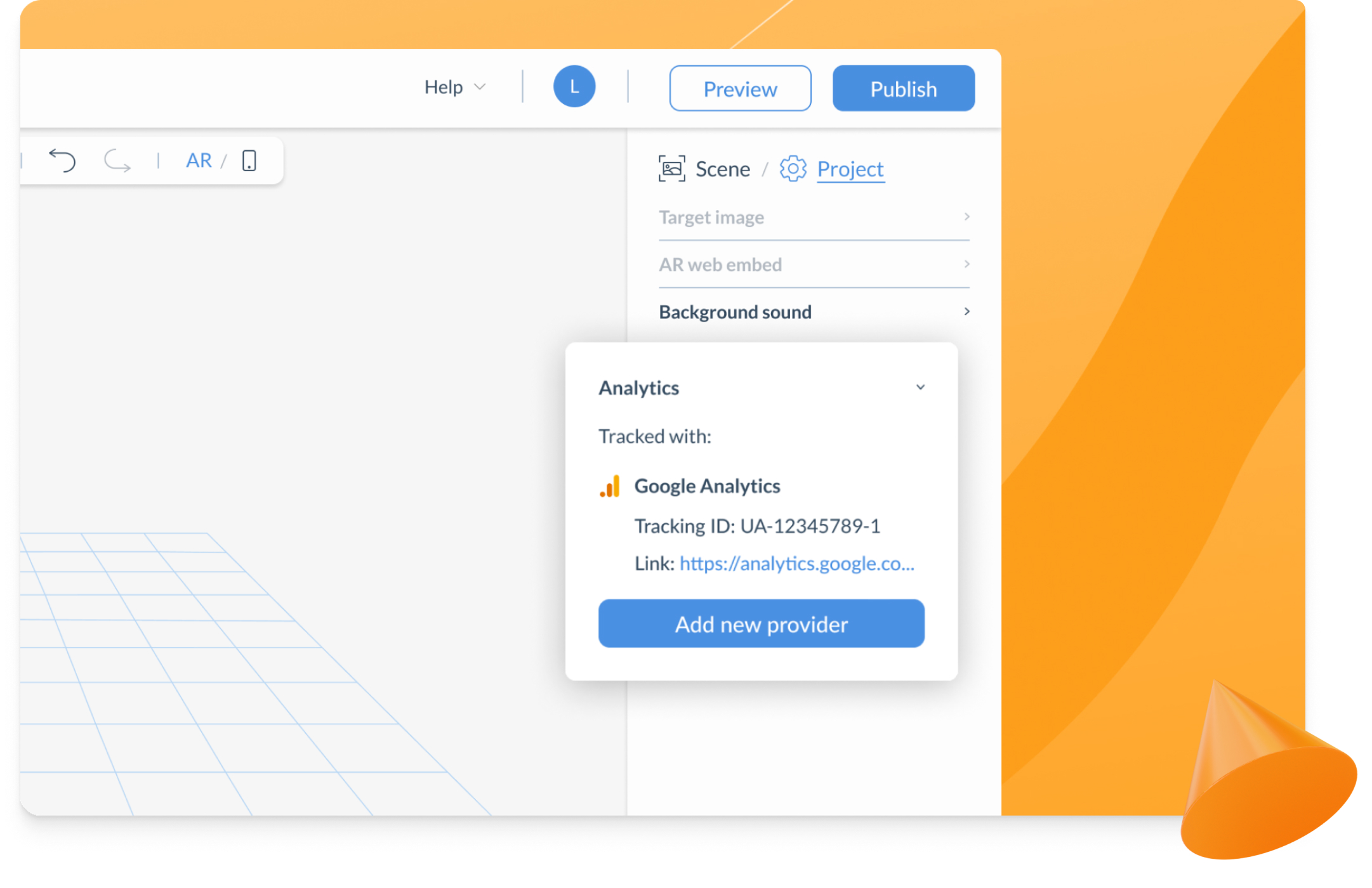 Measure your
AR Success

with analytics

Unlock insights into the performance with advanced analytics. Use a combination of the Zapworks dashboard and Google Analytics or Microsoft Clarity to gather valuable data points and KPIs, such as acquisition, impressions, engagements, and dwell time. By leveraging the power of analytics, you can gain a deeper understanding of your audience and improve the effectiveness of your experiences.
Get ahead with our learning resources