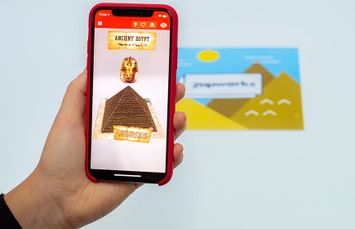 Theme: Ancient History
Start: 23rd Oct 2018
Deadline: 30th Nov 2018
Prize: $1,000 cash and a ZapBox developer kit
Using AR to tell immersive stories that educate and inform an audience on a given topic or business problem is one of the best ways you can utilise the tech. That's why for the 5th ZapWorks user competition we're challenging you to build your very own ancient history-themed AR experience that educates and excites users on your favorite part of ancient history.
Inspired by some of the most impressive civilizations and empires from ancient history such the Egyptians, Romans and Greeks, we want you to create an AR experience that brings these ancient civilizations back to life using ZapWorks Studio.
In terms of Studio functionality, we are offering you free reign to create a winning combination of any of the functionality and techniques we've used (and you've seen others use) in previous ZapWorks competitions including 360 Gyro, headset mode, masking and 2D and 3D animation. This is also a fantastic opportunity to use functionality you might not have worked on in the past (like dynamic lighting). As well as asking you to create an experience using an ancient history-themed environment, we are looking for you to include some additional layers of interactivity and entertainment.
This can come in any number of different ways, for example:
Adding 3D models to your scene (bonus points for animation)
Creating a game mechanic where the user has to find and collect items
Using multiple scenes or environments that the user can switch between
The inclusion of a parallax image or 2D assets
Add tappable hotspots to display additional information
Utilize Headset mode (VR) and using raycasters for interactivity
Don't forget to document your progress on the forum, our team and community are always happy to provide assistance and feedback along the way. Most importantly, the team at Zappar hope that this competition allows you to learn something new and as well as enjoy the challenge of building your experience. Good luck!
Entry requirements
Your entry must fulfill the below entry requirements.
MUST:

Include a target image
Adhere to the ancient history theme
Educate the end user on one or multiple parts of ancient history
Include some level of interactivity for the end user
Be built in ZapWorks Studio

MUST NOT:

Include copyright material
Don't have ZapWorks Studio? Don't worry you can download it now
Criteria for judging
Submissions will be judged on how well the experience educates, informs and entertains the end user on their chosen part of ancient history. The winning entry will be the one that combines creative flair with educational value.
Entrants will be judged on:
Target image design (remember the need for a clear call-to-action instruction)
Transition between the target image and the space environment
UI/UX - how well is the experience signposted
Educational value - how well a topic, fact or concept is conveyed
Complexity - how complex the project is
Polish - SFX, nice animations, target events
Assets - the quality of 3D models, 2D images, UI and 360 environments
Bonus points for:
Adding 3D models to your scene (plus points for animation)
Create multiple scenes or environments that the end user can switch between
Adding tappable hotspots to display additional information
Documenting your progress in a WIP (Work In Progress) topic on the forum
Support for Headset mode (VR) and using raycasters for interactivity
Judging panel
Once again, your creations will be judged and critiqued an assortment of Zappar's in-house team of AR experts. Judges include Lucas Perez, Creative Director, Anna Broadhurst, Lead Designer, & Tom Youel, Senior Creative.
Project assets
ZapWorks Ancient History CompetitionDOWNLOAD 2D ASSETSDOWNLOAD 3D ASSETS
Discover where to source additional assets for your competition entry.RESOURCES
T&C's
The promoter of this competition is Zappar Limited ("Zappar"). Our correspondence address is Barley Mow Centre, 10 Barley Mow Passage, London W4 4PH. By entering the competition, entrants agree to be bound by these terms & conditions.
READ ALL T&C'S
Qualifying Entrants
The competition is open to all users of ZapWorks. If you're using a personal account and you've already used your free code you will need to purchase an additional zapcode to enter the competition. If you are under the age of 13 please ask your parent or guardian for permission before entering the competition.
You are free to enter as many times as you wish, but please be aware that only one of your entries will be considered for the competition. If you submit more than one experience please specify which experience you'd like to be considered for the competition.
The competition is not directed to citizens of countries or states where it's promotion or operation is illegal or unlawful, and such persons are not eligible to enter. Competition entries are void where prohibited by your country of residence. We also reserve the right to disqualify any entrant if we have reasonable grounds to believe the entrant has breached any of these terms & conditions.
The competition is not open to Zappar staff, or family members.
Prize
There is one prize to be won. This is as follows:

1st prize will receive *$1000 (or *equivalent amount in their chosen currency) + free ZapBox Unit
*currency conversion rates will be finalized on the day of transfer and are at the discretion of Zappar
*the full amount will be paid into the beneficiaries bank account within 30 days of the competition close date
*No cash alternative will be offered for the free ZapBox
Start and Closing Dates
The competition starts on Tuesday 23rd October 2018
Your competition entry must be submitted by 23:59 UK Time (BST) on Friday 30th November 2018 on the following page: https://zap.works/competitions/ancient-history
Competition Entries
The winner (1st place) will be selected and announced on Wednesday 12th December 2018 on Zappar's web properties (www.zappar.com, zap.works, docs.zap.works, my.zap.works & forum.zap.works), social channels and email newsletter. Winners will, in the first instance, be contacted via email.
Entries will be judged on the following criteria:
Educational value - how well the experience educates users on a given topic
Complexity - how complex the project is, in terms of scripting, interactivity, etc.
Tracking - how well the content tracks to the image
Transition - how well the user transitions between the target image and AR experience
Polish - SFX, nice animations, target events
Assets - the quality of the 3D models, 2D images/UI
UX - how well the user journey is communicated
Theme - how consistently is the theme applied throughout the experience
Immersive - how effectively immersion is maintained throughout the experience
Bonus points will be awarded for:
Narrative structure - how effectively the experience tells a story
Include a call to action somewhere in the experience
Documenting your progress in a WIP (Work In Progress) topic on the forum
Prize winners will be chosen by a panel of judges. In all matters, the decision of the judges will be final and no correspondence or discussion will be entered into.
Entrants will retain the copyright in their competition submission
By submitting your entry you consent that Zappar can use your entry in perpetuity for marketing and PR purposes on:

Zappar's web properties, social channels, and print collateral
3rd party sites
Anywhere on the web that's not listed above

The experience must be your own original work. Entrants are NOT allowed to use 3rd party content without a license. Zappar is not legally responsible for users that submit work without consent from all relevant 3rd parties.
You must have obtained any and all consents, approvals or licenses required for you to submit the experience.
The experience may not include any third-party trademarks (logos, names) or copyrighted materials (music, images, video, recognizable people) unless you have obtained the explicit permission to use the materials.
You should only use elements in your entry that have documented features on the ZapWorks documentation site
You are responsible for the cost (if any) of creating your competition entry and sending it to us, as well as all other costs associated with participation in the competition
Entrants cannot ask for help with their competition entry from Zappar employees
All entrants must have a ZapWorks account and access to the internet
*Entrants may use the 'AncientEgypt.zpp' file as a starting point for your submission only.
To be in with a chance of winning, entrants should add a new mechanic, element or level of functionality to the experience that sets it apart from the original.
Liability
Zappar cannot accept any responsibility for any damage, loss, injury or disappointment suffered by any entrant entering the competition or as a result of accepting any prize. Zappar is not responsible for any problems or technical malfunction of any telephone network or lines, computer on-line systems, servers, or providers, computer equipment or software, failure of any email or entry to be received on account of technical problems or traffic congestion on the Internet, telephone lines or at any website, or any combination thereof, including any injury or damage to entrant's or any other person's computer or mobile telephone related to or resulting from participation in the competition. Nothing shall exclude Zappar's liability for death or personal injury as a result of its negligence.
Data Protection and Publicity
By entering the competition, you consent that Zappar may publish you as a winner on the Zappar website(s), Instagram, Facebook, Twitter and LinkedIn.
For a reminder about how we use personal information relating to ZapWorks users please see our privacy policy: https://zap.works/privacy/
Jurisdiction
The competition and these terms and conditions will be governed by English law and any disputes will be subject to the exclusive jurisdiction of the courts of England.